The Finnish Spitz Dog is a dog breed that originated in Finland and is one of the most popular throughout Europe. It stands out for its medium size, strength and intelligence, which makes it a much loved companion. But it is above all thanks to his hunting skills that he acquired the nickname « Finnish dog ».
Origins of the Finnish Spitz Dog
Although their origins remain quite difficult to determine, it is believed that the first Finnish Spitz were bred by the ancient Scandinavian people over two thousand years ago. These peoples needed hardy dogs that could perform a variety of tasks such as hunting, guarding, and trailing. Over time, this breed adapted to harsh climatic conditions and it became very popular in Finland.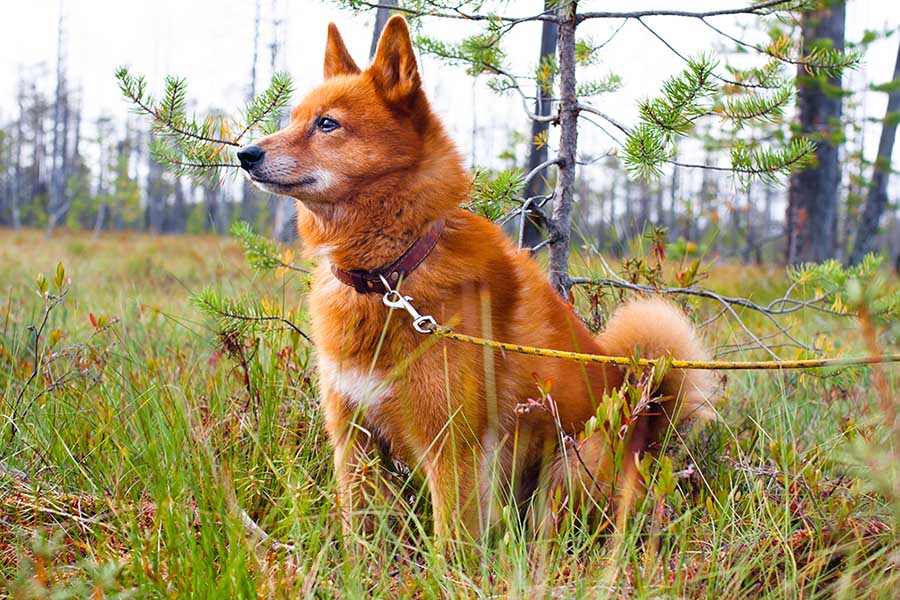 Characteristics of the Finnish Spitz Dog
The Finnish Spitz Dog is a small to medium-sized, compact dog that measures between 40 cm and 55 cm at the withers. Its head is broad and flat with small, piercing black eyes, and its rounded ears are erect and pointed. Its hair is short and dense, and it can be white, brown or black. Dogs of this breed generally have a cheerful appearance and a loyal, affectionate temperament.
The Finnish Spitz Dog is very active and intelligent. He is a dog who likes to learn and who is very sensitive to commands and training. They are known to obey their masters to the letter. In addition, it is an animal that loves games and will always be ready to participate in fun activities with you.
hunting skills
The Finnish Spitz Dog is considered an excellent hunting dog, able to track and even return game, including hares and rabbits, thanks to its incredible sense of smell. In addition, he is known to be able to work long hours without getting tired, which makes him the ideal dog for professional hunters.
Care and feeding
Grooming: The Finnish Spitz Dog has a short, very dense coat, which should be brushed regularly to prevent knots and tangles. To keep the coat shiny and free of parasites, it is recommended to bathe it once a month.
Exercise: Finnish Spitz are very dynamic dogs and they need at least 2 hours of exercise a day. It can be a daily walk, run, swim, or any other form of physical activity.
Diet: A well-balanced diet is essential for maintaining good mental and physical health in the Finnish Spitz Dog. A diet rich in protein and nutrients is recommended, along with healthy and nutritious treats. Quality croquettes should be given at the rate of 3 meals a day.
The Finnish Spitz Dog is a very popular breed in Europe, mainly in Finland, as it has been bred for its hunting abilities through several generations. His average size and strength make him a popular dog, while his intelligence and affectionate character make him a great companion. Below are some important points to consider if you are considering adopting a Finnish Spitz dog:
They need frequent grooming and a healthy, balanced diet.

They need at least 2 hours of exercise a day.

They are very responsive to training.

They are known for their hunting instinct.